Bouyant Offshore Tie-Up with Ranger Oilfield Products LLC
16/07/2020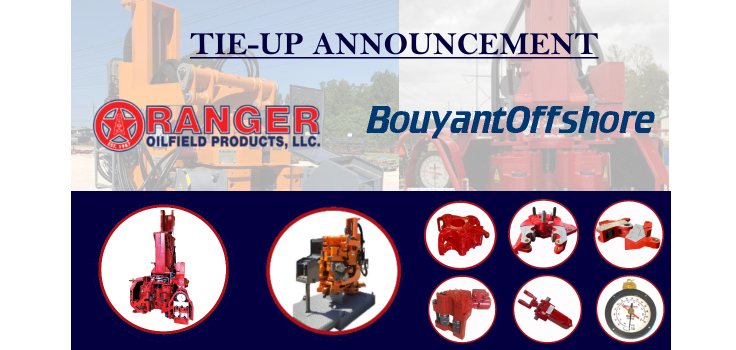 Bouyant Offshore Solutions Pte Ltd.  is extremely happy to announce that we have become an exclusive and sole distributor/agent for the sale of Ranger Oilfield Products and Services.
Ranger Oilfield Products is an API Q1 AND ISO:9001 CERTIFIED facility, located in Texas, USA that provides manufacturing and repair services of pipe handling equipment for the oil and gas drilling industry.  Together Bouyant & Ranger will be able to provide cost effective solutions and quality parts/equipment to countries including  Australia, Denmark, India, Indonesia, Japan, Malaysia, Myanmar, Netherlands, Norway, Singapore, Thailand, United Kingdom, Vietnam etc.
 For complete list of parts and details please visit the following link:
https://drive.google.com/drive/folders/1O2f4ykhdYKWfLcS8nnWFg2p_I7KaXiAA?usp=sharing
The list of spare parts/equipment that Bouyant will be able to supply.
IRON ROUGHNECK & PARTS – ST 80/ST 80 C/ ST 100/ FH 80/ FH 100 etc

TOP DRIVE PARTS

POWER SLIP PARTS

SLIP PARTS

MANUAL TONG PARTS

ELEVATOR PARTS

KELLY DRIVE BUSHING PARTS

MASTER BUSHING PARTS
---
Read More News